I know the new year passed a while ago but Happy New Years anyway :). I went on a photoadventure with my friend Israa at Coyote Hills Park. We have a good time walking around and taking pictures of the scenery, even though that's not quite my thing. I noticed I haven't taken a self-portrait in a long time. This photo Israa snapped of me should serve as an update of my "look." I look the same of course.
At night, I went to go visit my friends Mo and Edina. We had a lovely evening with and watched the fireworks from the embarcadero in San Francisco. I love fireworks! We also got some great desserts from North Beach (the old Italian Quarters of San Francisco)
Today I went out with a few friends to the city. We went to the mission district and kinda window shopped on valencia street. We stopped by a bookstore, a bunch of clothing and furniture stores, and best of all a pirate dear shop owned by Dave Eggers. In the window was the costume that max wore in Where the Wild Things Are! I haven't seen the movie but I have been kind of obsessed with it anyway, especially considering all the cool and somewhat freakish fashion photography that has come out of it.
In the bookstore I stumbled upon a Richard Avedon book and am now loving this portrait he did of Malcolm X - I had never seen it before!
On a side note, I've almost completed my styling for my next shoot and I am totally pooped. Six changes - more than I have ever done before, and trying to find colorful clothing in the winter is SUCH a pain. This is the mess I made. I've now put them together as outfits but this is just after I bought everything so I spread them out to see what I really want to use and what i don't, as well as how I want to put them together.
Speaking of styling, I'm now totally coveting these shoes for my girls. Believe it or not, they're by Jessica Simpon. yeah, I don't know how it happened either.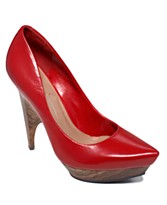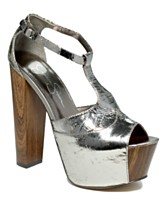 Oh, and did I tell you one of my photos from my shoot with Nikki is now the main image on
www.thrifted.net
?
Lastly, I'm totally thrilled at
UO did a little post on My So-Called Life
. They recognize genius.
Now go watch the show
.